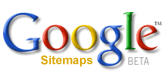 Google as part of its innovative march, has introduced sitemap to improve their crawling process. You will find detailed information about the Google sitemaps here. Webmasters can now create their own sitemaps to indicate to Google and other search engines - the pages in their website and the frequency of changes to the content. These sitemaps need to follow the protocol which is a dialect of XML for summarizing sitemap information, as outlined in Google's webmaster guideline pages.
Google has indicated a free Python script to create a sitemap invoked from your server. But this tool 'walks' through your directory to create the sitemap. If you are a little tech-savvy, this may be the best solution. On the other hand, if setting up server side scripts are daunting to you or alternatively you have a website populated with dynamic pages, you will be better off with a crawler based sitemap generator.
Our Sitemap generator tool is an online tool. You need not install it in any server or download anything to create your site's sitemap. Just enter your complete URL and it will spit out the sitemap which is collated from the links found in your page. It has the following features:


Create absolute URLs

Create the sitemap with 'default' parameters - changefreq and priority

Can follow all HTML links even if generated dynamically

Once the sitemap is generated, you will have to copy and paste the contents into a text file named as sitemap.xml and upload this to your server.

Modify the default parameters - changefreq and priority values as needed. The main index page will have a value of priority of one and the internal pages less than that. Once you are done, you are ready to inform Google that you have a sitemap. If you have a very large file, you can consider compressing the file by using a utility called as Gunzip, so that the eventual file will be something like sitemap.xml.gz which will be a much smaller file.
Then invoke the HTTP request to Google to indicate that you have a sitemap ready like this:
Login to your Google account ( you can use any of the Google account - Gmail,Google Earth,Adsense,Adwords etc) here: http://www.google.com/webmasters/sitemaps/login
And add the sitemap as per the directions in the page. www.google.com/webmasters/sitemaps/ping?sitemap=sitemap_url
Advantage of Using Google Sitemap:
Once you have taken the step of creating a sitemap and informing Google, you get additional benefits: Google will tell you some interesting information about your website and its crawling process. It will show things like HTTP errors, Unreachable URLs , URLs restricted by robots.txt ,URLs not followed and URLs timed out under Diagnostic heading.
And under Statistics heading, you will get to see the top search queries which most often returned your pages set in a table. This information alone is worth the trouble of creating and maintaining the Google sitemap. Other details available under the statistics are - Crawl stats, Page analysis and Index stats.

Go to the Sitemaps section to view the total number of sitemaps you have created under the given user name and the crawl status. You can also resubmit the maps from here after modification.
If you have a large website with thousands of dynamically generated pages, we may have a custom designed solution for you. We will use our Shark Search Engine to crawl your pages and write out the sitemap. We may even find some anomaly in the linking structure if you have not noticed.
This sitemap generator tool is under beta. No warranty is implied and you use this tool or any other tools in this server at your risk. Any suggestion for improvement or enquiries about other tools can be sent from our contact page.
Enter the URL of your page here: (e.g.: bestnetcraft.com/)